10 Feb

Curious about the Texas Fashion Industry Initiative? Learn more during their virtual culinary experience!

Founded in 2018 and launched in January of 2019, The Texas Fashion Industry Initiative 501c3 is the state's first official non-profit dedicated to the positive growth of the Texas fashion industry. Founded by strong leaders within the fashion industry and headquartered in Downtown San Antonio, Texas, TFII serves by bridging Texas fashion communities, educating entrepreneurs, creating jobs, showcasing fashion artists, and by drawing global attention to the Texas fashion scene.

Sponsored Ad – Visit the end of season sale now!
This past year, TFII joined forces with the CFDA in order to amplify its mission. Through this unique partnership, TFII is able to offer its members, students and fashion week participants access to professional New York fashion industry resources and provide ongoing support that opens up doors for the Texas fashion community and TEXAS FASHION WEEK™ launching this year.
Have you been looking to learn more?  Then you might be interested in TFII's first fundraiser event. Happening this February 19th, TFII has opened this virtual event to the public and offers San Antonio residents the option to indulge in a VIP Culinary Experience by Fredrick's Bistro.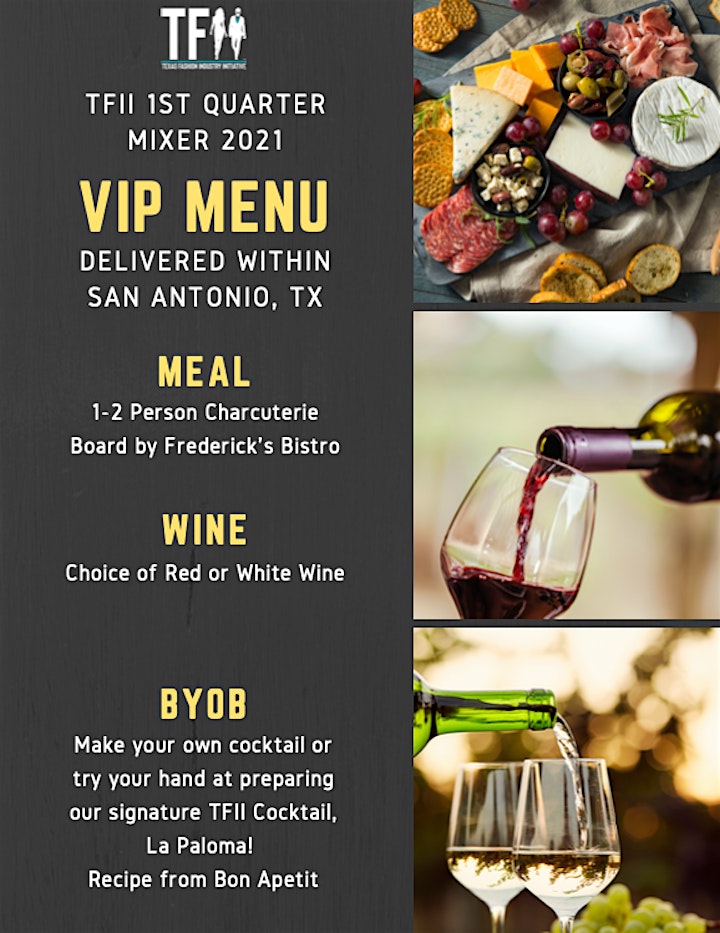 Enjoy a professional chef presentation on How to Prepare Your Culinary Experience then raise your glasses virtually as TFII Members and guests come together to toast to a brighter 2021 during this COVID Relief Year. Meet Elliot Carlyle of the CFDA, listen to the TFII 2020 Impact Report, learn about TFII's 2021 Department plans, including more information about TEXAS FASHION WEEK™ and VIRTUAL TEXAS FASHION WEEK™. Continue enjoying your culinary experience while enjoying Style Lush TV's Virtual Fashion Showcase in support of three local fashion brands. If you are interested in some networking, TFII will also set up Virtual Room Meet & Greet Pair Ups so that we can create connections between industry professionals that may suit one another.
This Virtual event will be held via Zoom. Link to attend will be provided via email upon securing your ticket.
Members
General Admission – Free with a donation option
VIP Culinary Experience Ticket – $45, but use your member # as a discount code to receive $10 OFF ($35)
Non-Members
General Admission – $20
VIP Culinary Experience & Fashion Showcase Ticket  – $45
Due to the delivery service of this culinary experience, this option is only available for San Antonio residents at this time. VIP Ticket sales close on Tuesday, February 16th in order to provide sufficient time to place the meal order and confirm delivery the day before the event. Proceeds from the VIP Culinary Experience will go towards supporting Fredrick's Bistro during this COVID relief year and TFII's Education Department.
Click here to purchase tickets.